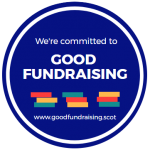 Code of Fundraising Practice
With effect from July 2016, Scottish charities have committed to self-regulating their fundraising activities in Scotland with a new, more rigorous, system of self-regulation that everyone can trust and understand.
In England & Wales the Fundraising Regulator is the independent regulator of charitable fundraising. The regulator was established following the Etherington review of fundraising self-regulation (2015) to strengthen the system of charity regulation and restore public trust in fundraising.
Fundraising by charities only registered in Scotland is subject to Scottish charity law and the Scottish system of self-regulated fundraising through the Independent Panel (Further information is available here).
The Scottish Charity Regulator (OSCR) will have an enhanced role in the new system whose aim is to command confidence in charity fundraising; inspire public trust; and promote good fundraising.
The SBCC does not directly approach any individual or business for direct donations, if you are contacted by telephone, post or email/ have any concerns please call 01506 591999 or email complaints@theburnsclub.org.uk.  Thank you
+++++++++++++++++++++++++++++++++++++++++++++++++++++++++++++++++++++++++++++++++++++++++++++++++++++++++++
The Scottish Burned Children's Club will adhere to best practice, honesty, transparency, clarity and accountability in all fundraising activity, enabling you to give with confidence.
Our continual fundraising promise to you……………..
We are committed to high standards
We do all we can to ensure that fundraisers, volunteers and fundraising contractors working with us to raise funds, comply with the Code

We comply with the law including those that apply to data protection, health and safety and the environment
We are honest and open
We tell the truth and do not exaggerate

We do what we say we are going to do

We answer all reasonable questions about our fundraising activities and costs
We are clear
We are clear about who we are, what we do and how your gift is used

Where we have a promotional agreement with a commercial company, we make clear how much of the purchase price we receive

We give a clear explanation of how you can make a gift and amend a regular commitment
We are respectful
We respect the rights, dignities and privacy of our supporters and beneficiaries

We will not put undue pressure on you to make a gift and if you do not want to give or wish to cease giving, we will respect your decision

If you tell us that you don't want us to contact you in a particular way we will not do so
We are fair and reasonable
We take care not to use any images or words that cause unjustifiable distress or offence

We take care not to cause unreasonable nuisance or disruption
We are accountable
If you are unhappy with anything we've done whilst fundraising, you can contact us to make a complaint.

We have a complaints procedure, a copy of which is available on the website or available on request.

If we cannot resolve your complaint, we accept the authority of Scottish Fundraising Complaints to make a final adjudication.
Should you have any concerns about the way we fundraise, we have a robust complaints process. We encourage you to get in touch with your feedback.  And, if you are unsatisfied with the way we handle your concerns, you can also contact Scottish Fundraising Complaints Panel.
Scottish Burned Children's Club – SBCC Complaints Policy – Due to the change of regulator we are currently revising our complaints policy. In the meantime if you have any concerns please contact out complaints coordinator.
Assigned Complaints Coordinator – Mark Stevenson – email: complaints@theburnsclub.org.uk 
The SBCC does not directly approach any individual or business for direct donations, if you are contacted by telephone, post or email/ have any concerns please call 01506 591999 or email complaints@theburnsclub.org.uk.  Thank you