Unsupervised fireworks displays are no laughing matter.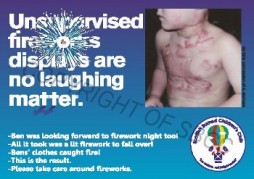 Our "Firework displays are no laughing matter " initiative was launched on 9th October 2013 at the ROSPA conference in Glasgow.
We certainly do not want to spoil the fun of properly supervised and organised displays, but there are many unorganised displays that will end up in someone getting seriously injured or killed.
Amy whose son was tragically burned by a firework is a volunteer with the SBCC .  Amy has been working closely with Cumbernauld Police, to raise awareness of the potential dangers associated with fireworks.
Newspaper article: Sunday Post 2013 [with kind permission from the author]
 Don't play fool.  Play Safe
 Please 'Click' on the links below to view our firework safety awareness campaign leaflets & Posters.
A5 – Firework lealfet  – A4 Firework Poster – A6 Firework Postcard
If you have any questions please contact Mark on 0800 75 60 999.