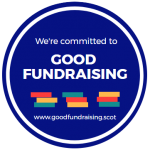 In order to continue the work of the charity, we depend on sponsorship, fundraising events and donations. Should you wish to make a donation, we gladly accept cash, material gift or cheque.
There are several ways that you can donate to the Scottish Burned Children's Club.
To make a donation by post, please download a Donation Form.
Cheques should be made payable to payable to: Scottish Burned Children's Club and sent with your completed Donation form  to:
PO Box 4116
Glasgow
G53 9AX
While anonymous contributions are gratefully accepted, we appreciate a covering note with any donation made.  This is soley for administrative purposes and your details will not be passed on to any third parties for any reason.
Alternatively you may wish make your donation online.  
Making your gift online is the most efficient way to support the Scottish Burned Children's Club, it is quick, easy and secure + you can gift aid your donation.
The SBCC is registered with:
Virgin Money Giving – a not for profit company, not a penny of profit is taken from donations.
If you wish to make a donation online please visit our fundraising page on Virgin Money Giving
Alternatively:
Charity Aid Foundation – If you have a CAF account you can give through the Charities Aid Foundation.