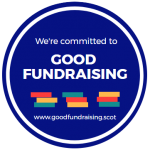 As a totally voluntary organisation none of the money we receive goes on wages as everyone associated with the club are volunteers. It costs on average £11,000 to hold the annual week long activity summer camp for the children, £10,000 for a family activity weekend and £1,500 for each of the Family day out events. We always endeavour to keep all our admin expenses to a minimum, all funds received, large or small, are so gratefully appreciated.
There are many ways you can help us, you may wish to make a Donation or perhaps you can organise a fundraising event, such as a sky dive or marathon or simply arrange a 'dress down day' or cake sale at your work or school? 
If you are arranging an event to support the charity, it is important that you register with us first.
Please note it is illegal for anyone to use collecting boxes, sponsorship forms, running vests, sashes or any other material bearing the Scottish Burned Children's' Club [SBCC] name, address, logo or the charity registration number, to raise funds for any other purpose than for the SBCC.
Please either email enquiries@theburnsclub.org.uk or call 07486 515999 to discuss your ideas.
Some events are straight forward to organise, however on occasions we may need to apply for permission/ a licence, for example to hold an event in a public place, to arrange a raffle/ sell tickets is advance, to be able to make 'street' collections, etc. We are here to help.
We have put together some Fact Sheets to help you:
The Scottish Burned Children's Club cannot take responsibility for any injury, loss or damage caused or sustained as a result of fundraising events held in aid of the SBCC. It is the responsibility of the event organiser to comply with legal and safety regulations. Insurance: If you require insurance there are organisations that can help, such as Event insurance services.
The Scottish Burned Children's Club is also registered with Virgin Money Giving –; where you can set up your own fundraising page and be able to receive online donations, save you having to collect.
Please note: The SBCC is not registered with JustGiving.